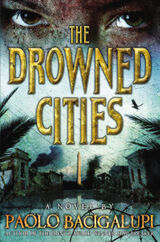 The Drowned Cities is a 2012 companion novel/semi-sequel to Ship Breaker by author Paolo Bacigalupi. The only character from Ship Breaker who is featured in The Drowned Cities is the half-man Tool. The protagonists of this novel are Mahlia and Mouse.
In a dystopian future America where violence, terror, and grief touch everyone, young refugees Mahlia and Mouse have managed to leave behind the war-torn lands of the Drowned Cities by escaping into the jungle outskirts. But when they discover a wounded half-man--a bioengineered war beast named Tool--who is being hunted by a vengeful band of soldiers, their fragile existence quickly collapses. One is taken prisoner by merciless soldier boys, and the other is faced with an impossible decision: Risk everything to save a friend, or flee to a place where freedom might finally be possible.
Characters
Edit
Main Characters
Edit
Minor Characters
Edit
Doctor Mahfouz
Jones
LT
Gutty
TamTam
Auntie Selima
General Sachs
Pook
Sayle
Reggie
Soa
Ocho
Mr. Salvatore
Tani 's
Amaya
General Caroa
Stork
Reyes
Sun Tzu
Alejandro
Gabby
Hoopie
Glenn Stern
Alil
Tua
Van
Ad blocker interference detected!
Wikia is a free-to-use site that makes money from advertising. We have a modified experience for viewers using ad blockers

Wikia is not accessible if you've made further modifications. Remove the custom ad blocker rule(s) and the page will load as expected.