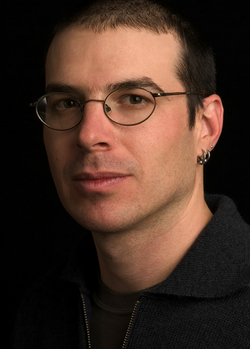 Paolo Tadini Bacigalupi (born August 6, 1972) is an American science fiction and fantasy writer who wrote Ship Breaker and the semi-sequel/companion novel The Drowned Cities.
Bibliography
Edit
Collections
Edit
Pump Six and Other Stories (Night Shade Books, 2008)
The Alchemist (Subterranean Press, 2011) with J. K. Drummond
Short stories
Edit
"Pocketful of Dharma" (1999)
"The Fluted Girl" (2003)
"The People of Sand and Slag" (2004)
"The Pasho" (2004)
"The Calorie Man" (2005)
"The Tamarisk Hunter" (2006)
"Pop Squad" (2006)
"Yellow Card Man" (2006)
"Softer" (2007)
"Small Offerings" (2007)
"Pump Six" (2008)
"The Gambler" (2008)
Audiobooks
Edit
The Alchemist and The Executioness (2010) with Tobias Buckell
Accolades for Ship Breaker
Edit
2011: Chosen for the American Library Association's Top Ten Best Fiction for Young Adults list.
2011: Nominated for the Andre Norton Award for Young Adult Science Fiction and Fantasy.
2011: Won the Michael L. Printz Award for Best Young Adult Novel..
2010: Nominated for the National Book Award for Young People's Literature.